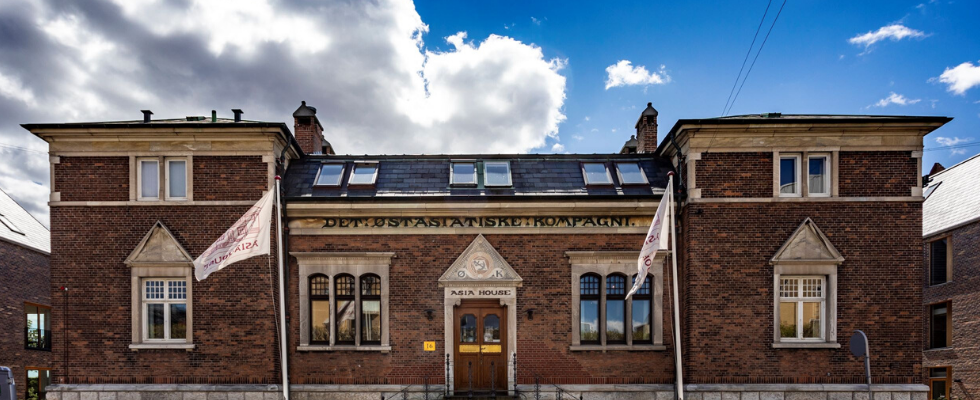 Situated in central Copenhagen just a brief walk from Østerport Station and Langelinie, Event Space Asia House is ideally located for gathering together friends and family on special occasions, or for conferences or meetings with colleagues and business partners.
When you enter Event Space Asia House, you are immediately enveloped by its unique atmosphere. Rooted in the European architectural tradition of the late 19th century and inspired by the Orient of the era, the building was constructed in 1898 as the first headquarters of the East Asiatic Company, which it served as until 1907. In the years that followed, the house was used as a hiring office for sailors, a ticket office for passenger ships, a laboratory and administration complex for a pharmaceutical group, an international wool trading centre, a customs office, an exhibition centre, and more.
The East Asiatic Company's long maritime history can be felt throughout the house, from the model ships and paintings to the nautical instruments and ornaments adorning the rooms. Each of the rooms is named in consideration of the EAC's seafaring activities and special relationship to Asia. From Nakskov, known for its shipbuilding industry and as the birthplace of EAC founder H.N. Andersen, to Bangkok, where Andersen landed at age 25 and signed on as a sailor aboard the Siamese ship, the Thoon Kramom. The Selandia room is likewise named after the MS Selandia, the largest and most advanced ocean-going diesel motor ship when it was launched in 1912. The Jutlandia room is dedicated to the EAC ship of the same name, famous for its role during the Korean war when it was used as a hospital ship providing humanitarian aid to the allied forces in South Korea. The Mandarin room reflects the EAC's long history of cooperation with China.
Discover more history, as well as elements of modern Danish design, when visiting Event Space Asia House, which is today owned by the EAC Foundation.